Thank you to all who donate time, money or items to the various causes of RSL Care SA. Your generosity truly makes a difference to the lives of all those who access our accommodation and services. Check out some of the amazing support we have received below:
Shane McGrath and the Bowhill Progress Association
 
On Friday 27th July, ARVL program manager Ben Challinor attended the official opening of the Bowhill Kayak Fishing competition, where he was presented with a cheque for $2,500 by Shane McGrath and the Bowhill Progress Association. This is the second year Shane and the wonderful team of people within the Bowhill community have chosen to support our ARVL program, which provides emergency accommodation for homeless veterans, or those at risk of homelessness. We extend our thanks and gratitude to this wonderful team of people and wish them 'tight lines' for the competition!
Vietnam Veterans' Federation (SA Branch) Quilting Group
We are very grateful for the generous donation we received from the
Vietnam Veterans' Federation SA Branch
 for our emergency housing program, Andrew Russel Veteran Living (ARVL). The lovely ladies from the Quilting Group donated 25 hand made quilts as gifts to contemporary veterans who come into our care through the ARVL program. The quilts were presented to CEO, Nathan Klinge at a morning tea on Monday June the 18th. Andrew Russell is the fallen soldier that ARVL is named in memory of, and RSL Care SA has developed a very special relationship with his parents, Bob and Jan. Bob himself is a Vietnam Veteran, so it was very fitting that they also attended the morning tea. Thanks again VVF Quilting Group!
PTSD: Mastering the Murray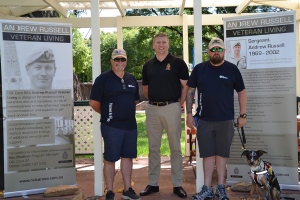 Andrew Russell Veteran Living (ARVL) was lucky to be the chosen charity of three ex-service men who kayaked the length of the Murray River to raise awareness of PTSD and veteran homelessness. The lengthy trip embarked on Saturday the 4th of March 2017 at Hovell Tree Park in Albury, NSW. The men hoped to kayak all the way to the Murray Mouth in South Australia in three months. Unfortunately they have been met with a few unexpected hiccups, but true to the veteran nature they will persevere and hope to finish what they started in 2018! Nevertheless, they presented a huge donation of $2,920 to the ARVL program. These funds will go a long way in helping RSL Care SA support contemporary veterans who are suffering from homelessness, PTSD and physical injuries; all issues that hit close to home for these fellow war veterans. Thanks again guys! We look forward to hearing of your completed journey!
Check out their Facebook page and show them your support: PTSD: Mastering the Murray
Adelaide Women's Prison
CEO, Nathan Klinge, was invited to a morning tea at the Adelaide Women's Prison on the 15th of June where he was presented with handmade knitted items for the residents in our care. Pictured is just a few of the many scarves, hats, gloves and headbands that were gifted. Thank you!
Keith's old Magna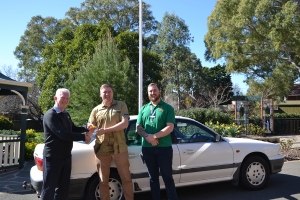 A big thank you to Keith Harrison for donating his old Mitsubishi Magna to assist the homeless veterans in our ARVL program! Keith first donated his vehicle to Workskil, which is an amazing organisation that provides unemployed people with hands on experience (for free) to learn valuable skills that will help them gain employment. After being overhauled through the Worksil Salisbury Workshop, the reconditioned vehicle was then donated to RSL Care SA to assist our ARVL program manager to transport veterans in need. What a great initiative by Keith to first provide a learning opportunity to those struggling with unemployment, before then helping out those at risk of homelessness. Thank you again!
RSL Care SA is a registered Public Benevolent Institution. All donations made to RSL Care SA go directly to the indented program. All donations over $2 are tax-deductible.