Romani Residential Aged Care Murray Bridge
Our Romani 72 bed residential aged care facility in Murray Bridge is now open.
Romani delivers a very impressive capability not only for Murray Bridge but for the broader rural communities in the Murraylands.
Apart from the very important benefits Romani brings for older community members, the broader community benefits also includes ongoing employment for approximately 80 staff.
Residing at Romani, Murray Bridge
We are able to accommodate fully and partially supported residents, so no matter what your personal financial situation is, please do not hesitate to contact us, or fill in an application form here.
Romani consists of three wings of accommodation, including memory support,  please click on the links below to view the pricing and key features: 
Romani Key Feature Statement and Pricing
If you would like further information regarding Residential Care accommodation, please enquire below, or call us on (08) 8379-2600.
You can now view our Romani facility via a 3D tour below.
All employment vacancies are advertised through SEEK. Please visit seek.com.au to view employment opportunities with RSL Care SA.
Your quick guide to Residential Aged Care Fees and Charges
Residential Aged Care fees vary depending on an individual's assets and income. RSL Care SA offers a number of accommodation options across all facilities, from platinum single rooms with private ensuites to share rooms with an ensuite. Accommodation fees vary depending
on the accommodation type.
Low assets and Income Resident
To ensure prospective residents with low assets and income are not disadvantaged from being offered permanent placement, accredited aged care facilities must reserve a percentage of their beds for 'low means' residents.
ASSET & INCOME FREE THRESHOLD – Low Means Resident
Assets between $0.00 and $58,500, and Income below $31,707.
Basic Daily Care Fee only
FIRST ASSET & INCOME THRESHOLD – Low Means Resident
Assets between $58,500 and $197,735.20, and income below $61,708.40.
Basic Daily Care Fee

Accommodation Contribution
Residents who are eligible to receive subsidised aged care fees are required to submit an Asset and Income Assessment to the Department of Human Services (Centrelink)
Figures shown reflect the Department of Health 'Schedule of Fees and Charges for Residential and Home Care' from 20 September 2023.
Higher asset and Income Resident
ABOVE FIRST ASSET & INCOME THRESHOLD – Financial Resident
Assets above $197,735.20 and income above $61,708.40.
Basic Daily Care Fee

Accommodation Payment

Means Tested Care Fee
Figures shown reflect the Department of Health 'Schedule of Fees and Charges for Residential and Home Care' from 20 September 2023.
Basic Daily Care Fee
The Basic Daily Care Fee (BDCF) is paid by everyone. It is set by the Commonwealth Government and is approximately 85% of the single Aged Pension. The BDCF covers all living expenses and contributes to the costs of other services such as meals, personal care, recreation activities, laundry, cleaning and nursing care
Current daily rate $60.86
Means Tested Care Fee
The Means Tested Care Fee (MTCF) is paid by residents who exceed the government's first assets and income threshold. As the BDCF does not cover 100% of the costs incurred by an aged care facility in providing its services, residents who are deemed to have the financial means are required to contribute more towards the cost of their own care. The MTCF varies depending on the asset and income level of the resident.
Current maximum daily rate $295.34                  
Annual Cap $32,718.57                   
Lifetime Cap $78,524.69
Accomodation Contribution
The Accommodation Contribution is paid by Low Means residents only. It is reviewed quarterly and is subject to change; however a resident will not be required to pay more than what is advised from their asset and income testing. The facility has restrictions on how much it may charge based on its Low Means resident ratio and whether or not the facility is newly refurbished. The Accommodation Contribution may be paid as a lump sun equivalent, known as a Refundable Accommodation Contribution, which is 100% refundable.
Current maximum daily rate $66.94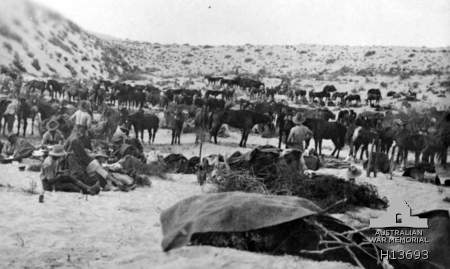 The Battle of Romani
The facility is named after the battle of Romani, which was fought between the 3rd and 5th of August 1916. The battle of Romani was one of the most important and decisive victories in WW1. It was a battle that finally put a stop to the Turkish threat to the Suez Canal and marked the beginning of the British and Australian forces' drive out of Egypt and into Palestine. The British defences were sited amidst a series of towering sand dunes, 35 kilometres east of the canal, which the Turks tried to outflank to the south early on 4 August. Initially, only the 1st Light Horse Brigade was in position to meet the Turkish attack. Heavily outnumbered it was forced to fall back but as the day progressed both mounted and infantry reinforcements steadily arrived, allowing the position to be stabilized around a massive dune known as Mount Royston, named after the charismatic light horse officer Lieutenant Colonel "Galloping Jack" Royston. The position was held throughout the night and before dawn the next morning the 1st and 2nd Light Horse Brigades advanced on foot with the bayonet. Turkish resistance collapsed at this point, and large numbers of prisoners were taken. At 6.30 am fresh troops of the 3rd Light Brigade were turned loose in pursuit of the retreating Turks.
136 Australians died in the battle, many of them from country and rural areas.
Don't Wait Any Longer.
Contact us today about living in good company.

Corporate Office
War Veterans Home
55 Ferguson Avenue
Myrtle Bank, SA 5064
Phone: (08) 8379 2600
Fax: (08) 8338 2577
Email: warvets@rslcaresa.com.au
Donate Online
Residential
Aged Care facilities
Retirement Living
Myrtle Bank
Glengowrie
Marion
Murray Bridge
Andrew Russell Veteran Living
Marion
ARVL Affordable Housing
Angle Park
Campbelltown
Wallaroo